Talk with a New York Life Agent
AARP Long-Term Care Options from New York Life1
Get the information you need to help protect your family, your assets, and your future.
Enter Your Information Below To:
Instantly download your FREE Guide now
Request a no-obligation consultation
Long-Term Care: Prepare for the Future
You've worked hard to make sure that you have the financial security you want for you and your family. And, you've tried to prepare for the surprises that life may bring in the future. But even the most well-thought-out strategy may not be enough to prepare you for the unexpected costs associated with long-term care.
It's easy to learn more about your options for protecting the people and things that mean the most to you. With AARP Long-Term Care Options from New York Life, our experienced agents can help you explore your coverage options and answer any questions you may have. To get started, request a consultation and receive your guide to long-term care today. It's free and there's no obligation.
70%
of people turning 65 CAN EXPECT to use some form of LONG-TERM CARE during their lives.2
With Americans living longer than ever, most of us will need some extra help with everyday activities as we age.2 The benefits of long-term care insurance go beyond what your health insurance may cover by reimbursing you for services needed to help you maintain your lifestyle if age, injury, illness, or a cognitive impairment makes it challenging for you to take care of yourself.
Long-term care may benefit:
Families who want to help protect their loved ones, lifestyle and assets.
Retirees and Pre-retirees wanting to preserve the money they have worked so hard to save.
Individuals who may not have someone to care for them or significant assets to pay for these costs.
It's impossible to predict your chances of needing long-term care, or how long you may need it. And since cost of care can be expensive, it's important to understand the financial impact a few years of long-term care can have.
Nursing Home Care: The average cost of a year's care in a private Medicare-certified long-term nursing home room is $116,554.76.3
Home Care: The average in-home care costs $60,569.60 a year for 40 hours of help per week.3
Assisted Living Care: A year in a 1-bedroom assisted living care facility averages $63,336.60 per year.3
For cost of care information in your area, please click here.
Many think that government programs such as Medicare and Medicaid will pay for all of their future long-term care needs. Surprisingly, they may only pay for some of these services and have many restrictions.
Medicare: May cover a maximum of 100 days of services after a hospital stay.2 Coverage is designed to assist people during a short-term recovery and doesn't include personal care or supervision services.
Medicaid: If you have limited assets and income and are relying on Medicaid, the state may make key care decisions on your behalf, including where you receive the care you need.
AARP Long-Term Care Options from New York Life1 offers valuable resources to help you find the coverage that's right for you. Request your free guide to long-term care today and an experienced New York Life agent will contact you to answer your questions and explore your options.
New York Life has many coverage options available.
For example, a long-term care insurance policy could cost about $89 per month for a single, 50 year old female and $106 per month for married couple age 50.4
Inside your guide, you'll learn how coverage can help: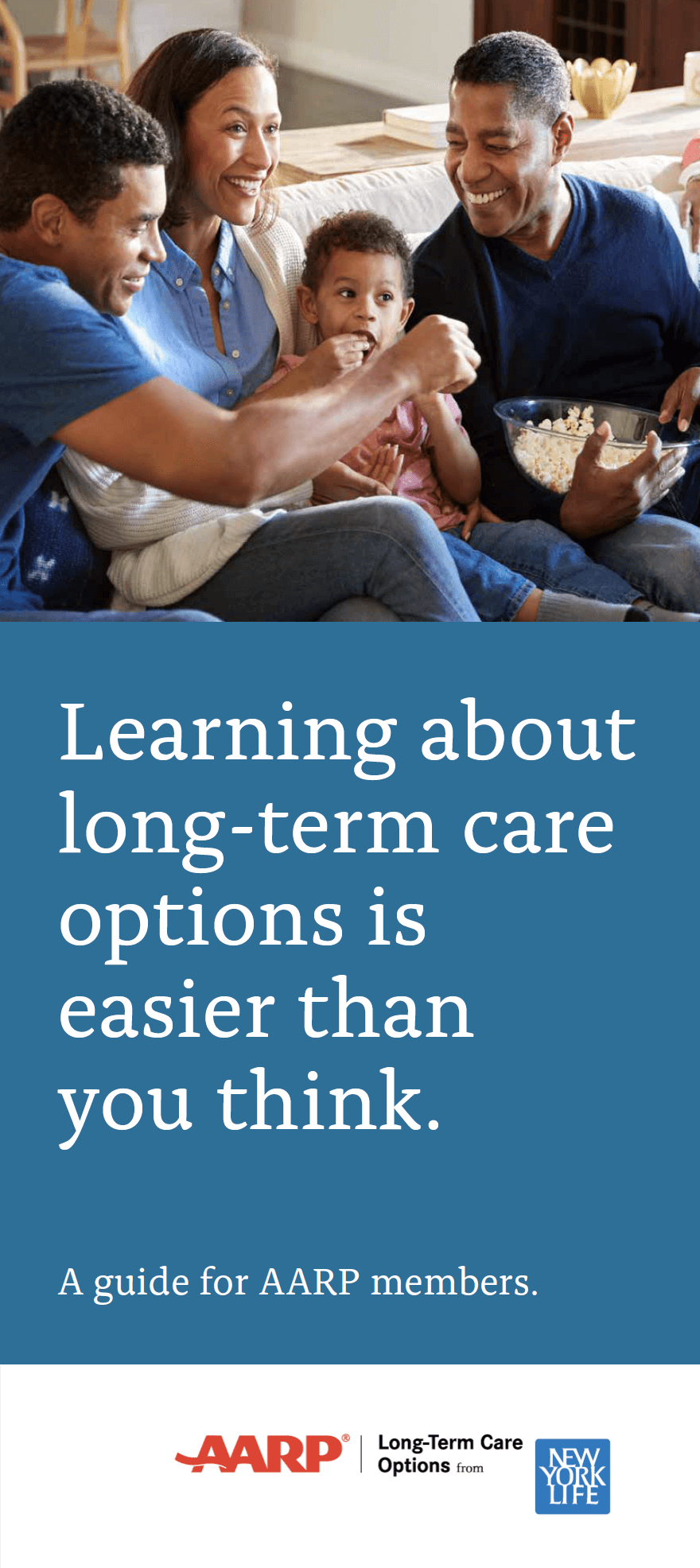 Protect your savings and other assets.
Pay bills that health insurance won't cover.
Cover the cost of getting care at home.
New York Life: a trusted name for over 175 years